Be watchful, stand firm in the faith, act like men, be strong.
Proverbs 27:17 says, "As iron sharpens iron, so one man sharpens another." With that in mind, it is the goal of the Men's Ministry at Grace Fellowship Chilliwack to sharpen one another and build each other up. We do this through Bible Study, fellowship, and prayer. The men of our church meet regularly for leadership training, discipleship, and accountability all throughout the calendar year. To help us in this ministry, we have used resources such as 9 Marks of a Healthy Church by Mark Dever and The Master's Plan for The Church by John MacArthur. Other resources that have been helpful to us are Disciplines of a Godly Man by R. Kent Hughes, The Godly Man's Picture by Thomas Watson, and Spiritual Disciplines Within The Church by Donald Whitney.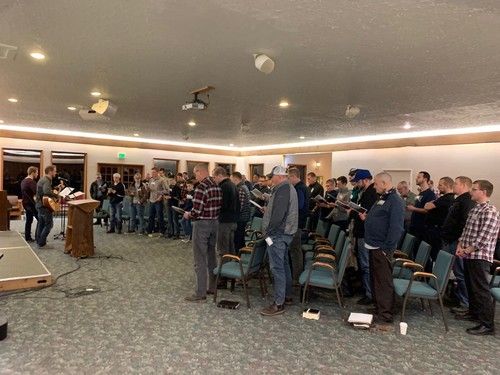 Get Connected. Go Deeper.
One of our goals as a church is to equip people for ministry, and we do that through Leadership Training. Various men in our church are taught how to teach, counsel and pray publicly before the congregation. We would love to hear from you if you are interested in being discipled in this way!
Our Iron man Men's study meets from September through November studying one book of the Bible a week. We began with the Book of Genesis and are working our way through to 2 Kings. Men are expected to read each book before the class begins so that we will be ready to discuss it. It will be tough, but that is why it is called "The Iron Man Bible Study." It is designed to challenge us to read the Bible with the goal of eventually taking us all the way through it. If the class is a success, we will continue in the spring. At that time, we will go through the next 12 books of the Bible starting with 1 Chronicles and finishing with Ezekiel.

We want our men reading the Bible. We want them to grow in their knowledge of God's Word and this will be a wonderful way to do that. Please pray for this time together. Pray that the Lord will "open our eyes, that we may behold wonderful things from His Word" (Psalm 119:18). The study meets at the home of David Scott.
Please contact us if you would like to find out more or be a part of this ministry.
We'd love to hear from you. Fill out the form below to get started.